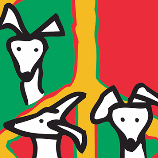 I believe that a good design engages the viewer and challenges them to think. My goal is to incorporate a unique point of view
that is based on a concept. I am obsessed with creating images that tell my clients' stories in a way that makes them stand out
amongst the competition. I approach each assignment as a problem to be solved, and through intense research,
zero in on the essence of the brand and exploit those aspects to increase that brand recognition.

This is a book cover designed for 30 Covers 30 Days 2015.
This website is a work
in progress.
I will be adding content regularly.
Please check back often to view new content.
November is National Novel Writing Month. 30 Covers 30 Days is an annual project pairing visual artists with writers to create a book cover. I am participating again, this year.
Click the image to see a larger view, and for the link to the NaNoWriMo blog featuring all of the cover art.